News from the world of SULKO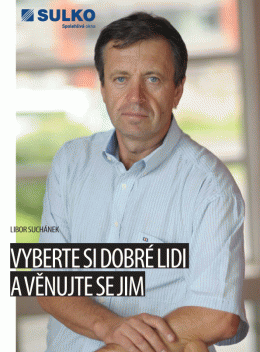 Interview with Mr. Libor Suchánek in BYZMAG
Since 1993, the company SULKO, a specialist in plastic windows has been engaged in the manufacture of plastic and aluminum windows and doors. The SULKO company is purely a Czech company, which is a guarantee of reliability for hundreds of clients in the Czech Republic and Central Europe. The proof is the steady development of the company,...
Cooperation with the Department of Photography at Tomas Bata University in Zlin
On banners on the main page of the website and on the various sub-pages you will find pictures directly from our operation, whose author is Anna Poubová, student of the Bachelor cycle who participated in, and won, a photography competition run by SULKO. We have also used some of her shots of selected products of our company. Thanks especially to...